Brontë Naylor
Waterside
2019, arcylic
9 x 18m

Banna Lane Festival
Griffith
New South Wales
Australia


This collage simultaneously depicts the familiar and unfamiliar. The face is concealed, contradictory to common perception, to enhance viewers connection to the human form. By removing the temptation to identify the individual draws focus toward familiarity, what joins us. This composition aims to explore communal joy, a collective experience one of which most of us can relate. How our bodies are in environment, this figure sits cross-legged by the Lake Wyangan side
---
Brontë Naylor
Reach
2019
7 x 25m

First Coat International Street Art Festival
Crn Bowen St & Chalk Dr
Toowoomba
Queensland
'Reach' is informed by the observation, experience and documentation of intuitive movements between a contemporary dancer with the surrounding burnt out pine forest. The subject body mimics the fallen burnt trees in the background.
This artwork investigates the perceptive stages between what is seen as 'real' and 'unreal' within antipodean urban/suburban contexts. This work explores dichotomies between 'the everyday' as lived by the urban majority, and their experience and perception of the supposedly 'natural' landscape. This process affords image-based 'smearing' to create a 'new' liminal landscape.
---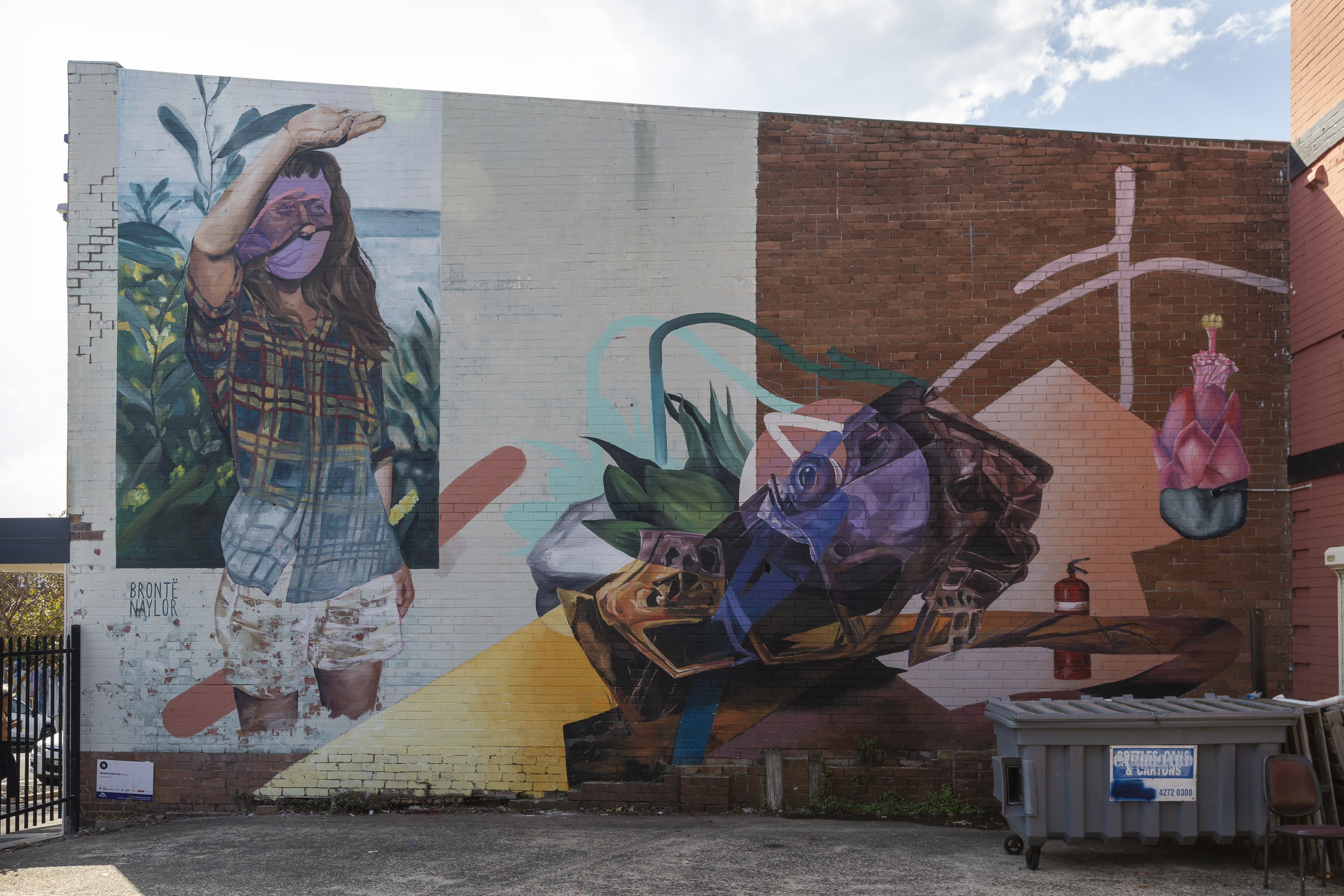 Brontë Naylor
Undergrowth
2019, arcylic
9 x 18m

Wonder Walls
Port Kembla
New South Wales
Australia
This public work is about the celebration of grit & rust in the Australian landscape and some of its inhabitants.


Brontë Naylor
The Collection
2019, arcylic
3 x 35m

Brisbane City Council
Brisbane Canvas
Sunnybank
Queensland
Australia


A study of archival photography
The collection is a collage depicting the Oasis Gardens. The Oasis, from what history shows, was a much loved place for community to enjoy a collection of local and exotic flora along side a range of natural artefacts. The design pictures these relics as a tribute to Sunnybank's history. The colour palette reflects the tones of the 'butterfly and shell collection'.
---